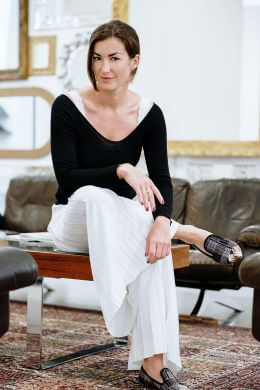 Interview with…
Claudia Schwarz.
Founder, CEO and beating heart of the agency
"Life for me means authenticity, gratefulness and the chance to realise ones true self. I am happy about what we have accomplished here at INSTYLE. It wasn´t always easy but consistency pays off. Our way is always that of the heart. What luck that my team accompanies me on this way and colleagues become friends."
Claudia Schwarz grew up in the Oberpfalz with agricultural roots. Besides Instyle, family, animals and their protection, music and lots of exercise shape the every day life of Claudia Schwarz. Her specific expertise in the fields of brand management, psychology, mediation and company consultancy set the basis for all the divisions of the INSTYLE Group and their structure.
"The emotional and rational values of our management reflect the versatile structure of our company and its specialist departments. We work differently. Individuality is our USP and we're proud of it". Sara Witte, CFO, with INSTYLE for 13 years.
What is the basis of the success of INSTYLE in brand development and communication?
It's based on a wonderful international team and the trust of our wonderful customers. We need freedom to be good. Our work is based on three pillars: Strategy, Creativity , Action.
Also, a brand strategy that is neatly budgeted is the cornerstone of any successful creative communications.
Your motto is #THINKDIGITAL. Can you explain that a bit more?
Digital acceptance and maximum reach currently form the basis for success. In the first step we "think" and design every task digitall. After this first step has been taken – target group oriented conception, SEO taken into account, likes and shares evaluated and CGI mapped according to international standards – everything can then be used in analog form. Digital worlds move our everyday life and inspire our actions. Our aim is to transfer this commitment authentically and perceptibly into the brand and experience worlds of our customers.
Photo and film production are a large part of your portfolio: How did this come about?
I founded the agency INSTYLE Models in 2001, which over the years has developed into an established player in the industry. In addition to international model and artist representation, we also undertake complete productions for our customers. In this process all our departments support each other and collaborate seamlessly.
"Full service" is a phase commonly used in our industry ­but to really deliver full service is demanding and, in our understanding, only works in a structure that offers in-house art buying. The creative development, coordination and production of promotional and image films are essential parts of our work. We custom-design concepts for online and offline advertising for each of our clients and implement them, paying great attention to detail. The development of print media, campaigns, graphics and advertising material is the responsibility of our graphics and communications departments.
What are the core competencies at INSTYLE and how do you implement them?
We tailor our teams to each client. These consist of communications experts, trend scouts, graphic designers, creatives and designers, as well as an editorial team and IT department. The print and online campaigns, textile collection management, POS development or the guerrilla-marketing ideas all manifest in the strategy and development departments. They then progress to the creative department and finally to the relevant specialist departments for implementation.
The online instant HTML convertertools make a great resource that will help you a lot in your work.